西安市旅游局Xi'an Tourism Bureau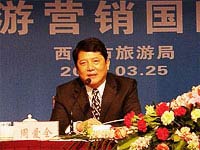 Director General of Xi'an Tourism BureauChina Xi'an Marco Polo International Travel Service Co., Ltd., licensed by China National Tourism Administration, ranks one of the top 10 travel agencies in Xi'an with its high quality in running its business oriented towards the overseas tourists traveling in China and Chinese inbound travel. It has gained the fame as a high quality travel agency regarding to its service, capacity, and the number of tourists received. In terms of tax payment, it ranks one of the top three tax-payers in the Xi'an tourism industry in 2007 and 2008.
The brand name website of this agency, www.travelchinaguide.com, is currently the world's largest China inbound tourism website. By virtue of its informative and comprehensive content as well as the vivid pictures, travelchinaguide.com has reached an average of over two million hits per day. In addition, it has been cited and recommended by many famous domestic and foreign media, famed universities, embassies and consulates, including the American Time Magazine, Chicago Sun-Times, New York Times, USA Today, CCTV-4 International, UNESCO and National Geographic. During the 2008 Beijing Olympics, travelchinaguide.com was chosen as the exclusive partner of the CCTV Olympic Website, providing abundant travel information regarding China's Olympic host and co-host cities for tourists from home and abroad.
In line with the concept of 'We Live to Serve', Xi'an Marco Polo International Travel Service Co., Ltd has always endeavored to offer the best service and building a high-class brand. With its professional website, experienced travel experts, the agency has promoted diversified and tailor-made tourist products and services to satisfy the various market demands. Take a la cart meal service for example, for years and even till now, meals have been a longstanding problem among travel agencies in China. The severe competition makes the control of the meal quality has long been a headache for us. But travelchinaguide has made its way and successfully solved this problem. Their a la cart service is designed to cater for the needs of the tourists who would like to have choices for their foods rather than the tourist food during their visits.
Over the past years, this agency has been highly commended by oversea tourists and has reached the standard of a non-complaint, non-dispute, legal and trustworthy business.
Witnessing the achievement and progress of this agency under our prefecture, we herein cordially recommend travelchinaguide.com. You can feel free to make your bookings and it is safe to make your payment to them. We are sure you'll enjoy top-class service and a lifelong memorable trip.
We wish you a happy journey to China!
地址:中国陕西省西安市北院门159号 Tel:029-87630166 Add: No.159 Bei Yuan Men, Xi'an,710003 Tel: 86-29-87630166